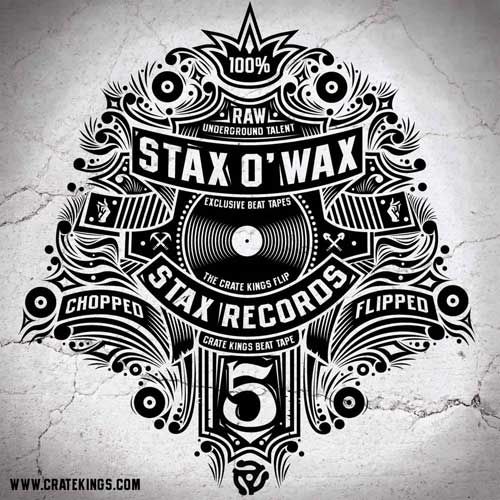 They done it again. The hooligans over at
Crate Kings
have finished up their 5th beat compilation, this time sampling music released on the Stax record label.
Stax was founded in 1957 in Memphis Tennessee and was home to such notable and influential artists as Otis Redding, the Bar-Kays, Sam & Dave, Rufus Thomas, Albert King, Wilson Pickett (sort of--he recorded there but released his records under Atlantic), Eddie Floyd and Issac Hayes. Even Elvis Presley recorded three albums there at some point. The house band was the mighty Booker T & the MGs, who also had successful records of their own. Stax flourished through the 60s only to descend into financial ruin and close down in 1975.
The irreverant beatsmiths who congregate at the Crate Kings forums decided to plunder Stax's legacy of classic music and rework it into a
respectful tribute
to this renowned record label. 37 tracks were blended by Rafferty the DJ into a cohesive musical and historical statement guaranteed to not only educate you, but also put you in a neck-brace for the remainder of the summer. (uh, by that I mean you will physically express your enjoyment of the music to the point of bodily harm.)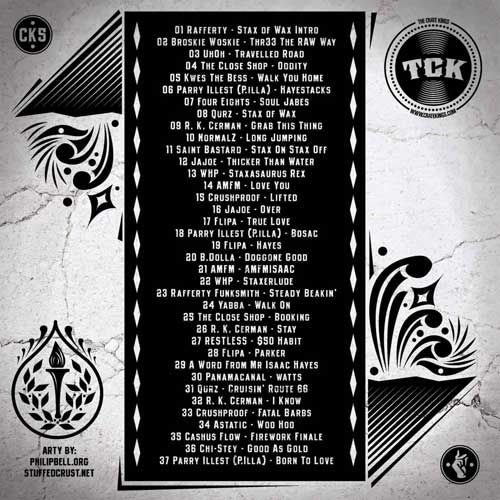 Isn't the art nice? It's done by
Flipa
, who also contributed several excellent tracks to the project. Here's that tracklist again if you can't read the teeny writing above:
01. Rafferty Funksmith – Stax of Wax Intro
02. Broskie Woskie – Thr33 The RAW Way
03. UhOh – Travelled Road
04. The Close Shop – Oddity
05. Kwes the Bess – Walk You Home
06. Parry Illest (P.illa) – Hayestacks
07. Four Eights – Soul Jabes0
08. Qurz – Stax of Wax
09. R. K. Cerman – Grab This Thing
10. NormalZ – Long Jumping
11. Saint Bastard – Stax On Stax Off
12. Jajoe – Thicker Than Water
13. WHP – Staxasaurus Rex
14. AMFM – Love You
15. Crushproof – Lifted
16. Jajoe – Over
17. Flipa – True Love
18. Parry Illest (P.illa) – Bosac
19. Flipa – Hayes
20. B. Dolla – Doggone Good
21. AMFM – AMFMISAAC
22. WHP – Staxerlude
23. Rafferty Funksmith – Steady Beakin'
24. Yabba – Walk On
25. The Close Shop – Booking
26. R. K. Cerman – Stay
27. RESTLESS – $50 Habit
28. Flipa – Parker
29. A Word From Mr Isaac Hayes
30. Panamacanal – Watts
31. Qurz – Cruisin' Route 66
32. R. K. Cerman – I Know
33. Crushproof – Fatal Barbs
34. Astatic – Woo Hoo
35. Cashus Flow – Firework Finale
36. Chi-Stey – Good As Gold
37. Parry Illest (P.illa) – Born To Love
So if you'd like to listen to it, why don't you
download
it?